Ambassador/UNF professor honored on 25th anniversary of peace in Northern Ireland
Ambassador Nancy Soderberg is being recognized for her efforts in bringing peace to Northern Ireland, on the anniversary of the signing of the Belfast (Good Friday) Agreement on April 10, 1998. Soderberg will be honored with the Chancellor's Award for Civic Leadership in recognition of her significant contribution to peace and reconciliation in Northern Ireland. She will also join President Biden's official delegation to Ireland, leaving this Wednesday.
"For a long time, we saw politics being played out by men, and men only," said former Secretary-of-State and First-Lady Hillary Clinton who will present the awards. "When I visited in 1995, I saw at first-hand how the women on the ground were making an indelible mark and helping shape the peace process in a variety of ways. I am so pleased that these awards fully recognize the commitment, skills and determination of a diverse group of women, from across the political and civic spectrum, who helped secure and drive forward peace on this island."
Last week, Soderberg was also bestowed with honorary degrees from the University of Dublin at Trinity College Dublin on the 25-year anniversary of the Good Friday agreement, along with three other individuals who played significant roles.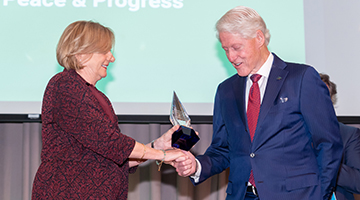 Soderberg has been a major player in international relations for close to three decades. She was Former President Clinton's Chief Advisor in Northern Ireland and played a crucial role in the development of the peace process in the 1990s. She worked to create the conditions for peace and then worked tirelessly on the ground – on both sides of the border – to create a lasting second ceasefire and the basis for an agreement.
"Helping to broker peace and breaking decades of violence was the bright light of my political career," said Ambassador Soderberg. "Thousands of people who could have been killed are now living the miracle of normal, peaceful lives."
Today, Soderberg serves on the Ad Hoc Committee to Protect the Good Friday Agreement, made up of more than 40 people who have spent decades working to support the peace deal. She continues to defend and protect the peace she helped to create.
Soderberg also recently presented the William J. Flynn Initiative for Peace Award on behalf of the National Committee on American Foreign Policy to Former President Bill Clinton, recognizing their work and extraordinary leadership brokering peace in Northern Ireland.
Categories
Recent Articles