UNF celebrates National Social Work Month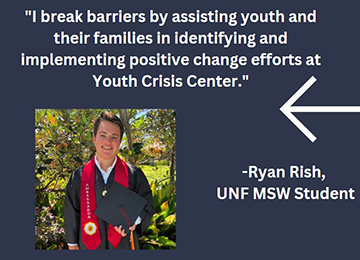 March is National Social Work Month, and the University of North Florida social work program is celebrating the theme "Social Work Breaks Barriers" with a campaign highlighting how UNF social work students break barriers in following their dreams to care and advocate for others.
Social Work Month celebrates the profession that enriches our society by empowering people and communities to overcome hurdles that prevent them from living life to the fullest. The annual Social Work Month campaign in March is a time to inform public, policymakers, and legislators about how social workers have always broken barriers when it comes to the services they provide in an array of sectors, including hospitals and mental health centers, federal, state, and local government, schools, community centers, and social service agencies.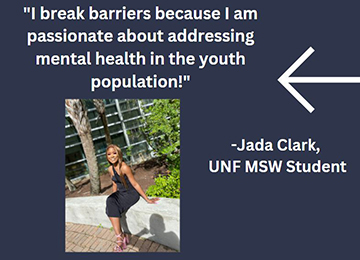 Next week, UNF undergraduate and graduate students will participate in Legislative Education and Advocacy Day in Tallahassee where they will network with new and seasoned professional social workers from across the state to educate and lobby legislators on important issues facing the social work profession and clients.
Categories
Recent Articles