International Center celebrates Think Blue & Grey and Go Green at Jacksonville Zoo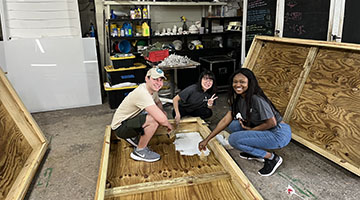 The University of North Florida's International Center took 27 international students to the Jacksonville Zoo and Gardens as a part of the Community Engagement Enhancement Program to participate in various service activities and to learn about conservation efforts. This gave the participants an opportunity to create connections among each other and to compare environmental preservation strategies between the United States and their home countries.
Overall, students reported enjoying the service activity and learning from the staff at Jacksonville Zoo and Gardens. They were able to provide feedback on what they learned about how the Zoo promotes local conservation efforts, specifically Florida wildlife such as manatees and natural resources like river conservation. The students also shared interesting things they learned about how a zoo operates and noted that they were impressed at how much they were able to manage with a small staff.
The Community Engagement Enhancement Program (CEEP) is a Center for Community-Based Learning program that promotes co-curricular community engagement opportunities for students. By providing professional development on community-based transformational learning principles and practices through CEEP, staff members in student-facing units create co-curricular community engagement programs for students. Learn more on the CEEP website or contact Dr. Alarie Gibbs at alarie.gibbs@unf.edu.
Categories
Recent Articles