UNF hosts ribbon cutting for new boardwalk, bridge and trail renovations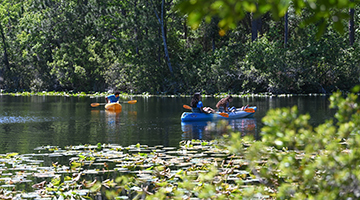 The University of North Florida hosted a grand ribbon cutting unveiling of the updated and renovated boardwalk, bridge and nature trails at the John M. Golden Educational Pavilion.
"We have such a beautiful campus at UNF, and our nature trails are a valuable asset for our students and our community," said UNF President Moez Limayem. "We are especially proud of our Eco Adventure programming, and we encourage everyone to come out to our preserve and enjoy the natural beauty of Northeast Florida."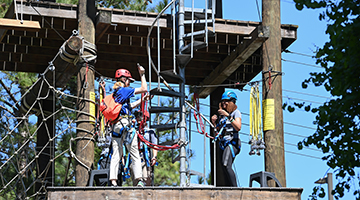 The Department of Recreation and Wellness includes the UNF Nature Trails (open sunrise to sunset daily and available for public use), Osprey Challenge Course and Eco Adventure, which consists of gear checkout for students, Environmental Education programs and Eco Camp. Named for distinguished UNF professor Dr. Robert W. Loftin, the trails continue to foster his vision of natural preservation and protection of UNF's over 500 acres of natural habitat. Loftin, along with the Sawmill Slough Conservation Club, UNF faculty, staff and community members, established UNF's original 12-mile nature trail system on campus in early 1973.
The boardwalks and bridge needed numerous repairs after being exposed in the Florida elements over the past 40 years. In 2021-22, under the leadership of Student Body President Selma Besirevic and Vice President John Grosso, UNF Student Government gave their support for repairs of the bridge and boardwalks as a Capital Improvement Trust Fund project. The $1 million project included the demolition and replacement of several boardwalk sections across the trail system, renovation of the bridge over Lake Oneida, and a conceptual drawing for a future Eco Adventure facility.
Categories
Recent Articles