UNF professor reveals history of animal resources from Bronze Age well contents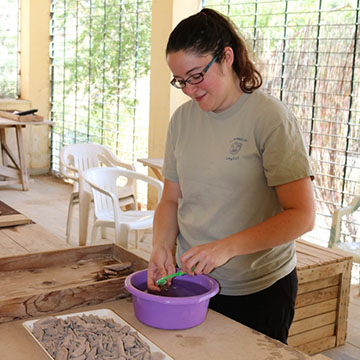 Dr. Jacqueline Meier, assistant professor of anthropology at the University of North Florida, is the co-author of a study recently published in the open-access journal PLOS One on how a Bronze Age garbage pile in Mycenae, Greece provides important data for understanding the history of animal resources at the site.
Animals were an important source of subsistence and symbolism at the Late Bronze Age Greek site, as evidenced by their depictions in art and architecture, but more research is needed on the animals that lived there. In this study, researchers performed a detailed analysis of a large deposit of animal remains inside a well within Petsas House, a household in Mycenae that was used by ceramics artisans.
This study demonstrates how detailed analysis of animal remains in well-preserved assemblages can provide insights into the social dynamics of ancient settlements. Further investigation into this site will potentially elucidate patterns of food provisioning, trading, and responses to natural disasters at this important archaeological locality.
Read more in PLOS One.
Categories
Recent Articles