UNF student team wins first place at the Southeast Cyber Defense Competition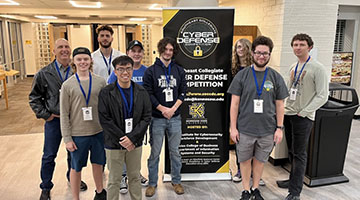 Osprey Security, the University of North Florida's School of Computing student team, won both first place and the "Best in Service" award at the 2023 Southeast Regional Cyber Defense Competition (SECCDC). After winning first place, the student team will advance to the national finals in Dallas with nine other schools in April.
The UNF student team competed against many other schools including Clemson University, Columbus State University, St. Petersburg College, the University of Central Florida, and the University of Southern Alabama.
The SECCDC is a regional competition held as an effort to help facilitate the development of a regular, national-level cyber security exercise. The competition is managed in partnership with the Institute for Cybersecurity Workforce Development (ICWD) and the Coles College Department of Information Systems and Security.
As part of the Collegiate Cyber Defense Competition (CCDC), the SECCDC focuses on the operational aspect of managing and protecting an existing network infrastructure. While other exercises examine the abilities of a group of students to design, configure, and protect a network over the course of an entire semester, this competition is focused on the more operational task of assuming administrative and protective duties for an existing "commercial" network. Teams are scored on their ability to detect and respond to outside threats, maintain the availability of existing services such as mail servers and web servers, respond to business requests such as the addition or removal of additional services, and balance security needs against business needs.
Categories
Recent Articles