Graduate student embraces lessons of the past in her research and work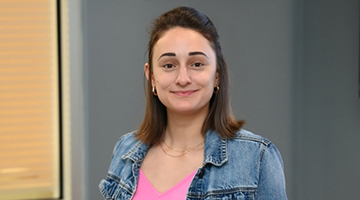 UNF graduate student Marisa Pechillo believes that to have a positive impact on the future, one must understand the past.
A graduate student in UNF's history program, Pechillo is currently conducting a thesis on People with Epilepsy (PWE), related social challenges and human rights. Inspired by "The Spirit Catches You and You Fall Down," a book by Anne Fadiman about a Hmong child with epilepsy and related struggles, Pechillo hopes her work will prompt others to look beyond stigmas and support innovative treatment solutions for the disease. "The historical context really needs to be considered when discussing medicine and disease," said Pechillo, who presented a chapter of her thesis last month at the annual Florida Conference of Historians.
Pechillo has had several unique experiences during her time at UNF, and it is certainly no surprise that the history buff would be drawn to archives and special collections. For two years, Pechillo served as the primary archivist for the new Dr. Christine Rasche Collection at the Thomas G. Carpenter Library, where she has organized the research and work of Rasche, a founding faculty member from the College of Arts and Science's Criminal Justice program. (See article below.)
Set to earn her master's in May, the Pasadena, Maryland native also received a bachelor's in history with a minor in international business from UNF and plans to pursue a doctorate. Pechillo is grateful to history department faculty including Dr. Chau Kelly, who helped her achieve success and continue to inspire her appreciation for the past.
"I think history is one of the best ways to understand the human experience," said Pechillo. "It allows you to shift your perspective," she said, "and to see outside of your own box."
Categories
Recent Articles