UNF Wind Symphony releases album by women composers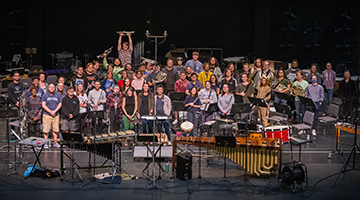 The University of North Florida's Wind Symphony, directed by Dr. Erin Bodnar, recently released "This Prismasonic Rock I Stand" on Mark Records label.
The album features music by Ukrainian-born composer Catherine Likhuta, Australian composer Holly Harrison, Cuban-born composer Ivette Herryman-Rodriguez and American composers Marie Douglas and Andrea Venet (UNF Associate Professor of Music). The pieces feature UNF music faculty; Dr. Erin Bennett, Dr. Sarah Jane Young, Dr. Sunshine Simmons, Professor Brittany Fouché, and Dr. Andrea Venet. Forty-five UNF undergraduate and graduate students performed on the album.
Funding for the project was made available through the Foundation Board Initiative Faculty Grants.
"This Prismasonic Rock I Stand" is also available on Spotify, Apple Music, or YouTube.
Categories
Recent Articles