UNF professor returns from Congressional Fellowship in Washington, D.C.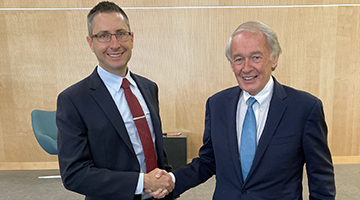 Dr. Josh Melko, associate professor of chemistry, returns from Washington, D.C. after being awarded and participating in the American Chemical Society (ACS) Congressional Fellowship.
As part of the ACS Congressional Fellowship Program, Dr. Melko worked with congressional staff, under Massachusetts Senator Ed Markey, helping to research and draft legislation and provide input on policy review and oversight. He participated in a wide variety of activities including briefing members of Congress on scientific and technical topics, as well as writing issue and policy briefs, talking points, speeches, and press releases.
Dr. Melko helped produce three bills which include the CHARGE Act, which lays the groundwork for an energy grid that can support a high increase of electric-powered vehicles and buildings, while also improving energy reliability, lowering costs for consumers, and spurring economic competition; the Ensuring Safe and Toxic-Free Foods Act, a comprehensive legislation that ensures the Department of Health and Human Services (HHS) fulfills its responsibility to promote the health and well-being of American families by directing the Food and Drug Administration (FDA) to strengthen the Substances Generally Recognized as Safe (GRAS) Rule; and the Crypto-Asset Environmental Transparency Act, a legislation that would require the Environmental Protection Agency (EPA) to conduct a comprehensive impact study of U.S. crypto-mining activity and require the reporting of greenhouse gas (GHG) emissions from crypto-mining operations.
Currently, Dr. Melko is applying his experience from the ACS Congressional Fellowship Program by teaching a science policy course at UNF that teaches undergraduate students how to advise a congressperson or policymaker and to build projects.
Categories
Recent Articles