Brown v. Board of Education originator to speak at UNF's MLK Scholarship Luncheon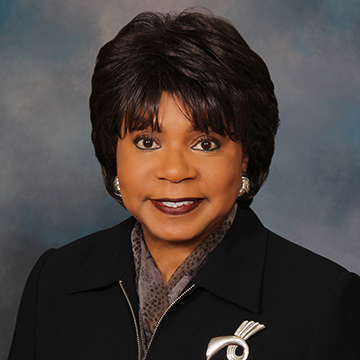 Cheryl Brown Henderson, Brown v. Board of Education originator and civil rights activist, will deliver the keynote address at the University of North Florida's 42nd Annual Dr. Martin Luther King Jr. Scholarship Celebration at noon on Wednesday, Feb. 8, at UNF's Adam W. Herbert University Center.
Henderson is one of the three daughters of the late Rev. Oliver L. Brown, who in the fall of 1950 along with 12 other parents in Topeka, Kansas and led by attorneys for the NAACP, filed suit on behalf of their children against the local Board of Education. Their case joined with cases from Delaware, South Carolina, Virginia and Washington, D.C. on appeal to the U.S. Supreme Court and on May 17, 1954, became known as the landmark decision; Brown v. the Board of Education of Topeka, Kansas. This case was legally named for Oliver Brown, i.e., Oliver L. Brown et. al. vs. the Board of Education of Topeka, KS. et. al. Brown died in 1961 before knowing the impact this case would have on the nation.
Henderson is the founding president of The Brown Foundation for Educational Equity, Excellence and Research, and owner of Brown & Associates educational consulting firm. She has extensive background in education, business and civic leadership, having served on and chaired various local, state and national Boards. In addition, she has two decades of experience in political advocacy, public policy implementation and federal legislative development. She is the recipient of various awards and recognition for work in education and community service; presentations at numerous conferences, conventions, and universities; and for her work with Congress and the National Park Service to preserve sites associated with the landmark U.S. Supreme Court ruling of 1954.
The Dr. Martin Luther King Jr. Scholarship Celebration is an annual UNF Intercultural Center (IC) and Office of Diversity and Inclusion event that takes place each February to honor the ideals and teachings of Dr. Martin Luther King Jr. by recognizing students who carry his legacy forward through both their scholastic achievements and commitment to servant leadership. Generous donations from the UNF community and abroad have helped support the IC in awarding UNF students more than $125,000 in scholarships to date.
To participate, purchase tickets or sponsorship packages. For more information, visit the website. For additional event questions, contact UNF's Intercultural Center via email or by calling (904) 620-2528.
Categories
Recent Articles