UNF students share idea of healing and joy through performance at Mayo Clinic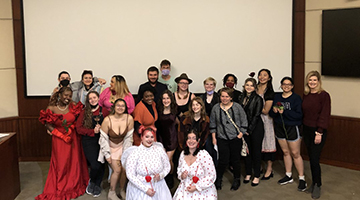 On Valentine's Day, students from the University of North Florida performed a musical theatre showcase at Mayo Clinic.
Sponsored by UNF's Department of English, the students performed various songs inspired by the theme of healing and joy at Mayo's Walker Auditorium. The showcase was broadcasted in real time to Mayo's three major campuses in Jacksonville, Fl., Rochester, Minn., and Ariz. in real-time, and recorded for patients, doctors, nurses, families, and friends to enjoy.
Besides singing, the students from English instructor Maureen McCluskey's musical theatre class were able to experience various leadership opportunities that included hosting the showcase, being the stage manager, doing makeup, hair and costume design, props, choreography, and more. Members of the cast include Brynna Blakeman, Skyler Carlson, Abby Crouch, Kaleigh Ervin, Dawn King, Hyun Soo Lee, Dineen Liriano, Victoria Mapayi, Haven O'Malley, Hannah Padalik, Monyel Poole, Julia Rigon, Shaun Seiler, Chandler Spivey, Rae Taylor, Corinna Temple, Sierra Tiner, Nathan Turoff, Joselien Vasallo, and Spencer Wayne.
Categories
Recent Articles