Center for Community-Based Learning gives back at Rethreaded for MLK Day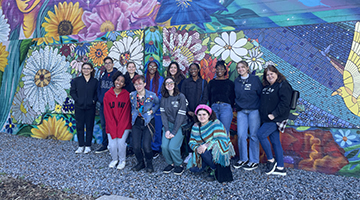 University of North Florida students honored Martin Luther King Day 2023 by working with the Center for Community-Based Learning to support Rethreaded, a Jacksonville organization that provides reentry services to women rescued from human trafficking. Rethreaded provides a safe and supportive work environment where women earn money while learning a skill and experiencing continued healing through community and counseling services. 
Thirteen students traveled to the Rethreaded site where they learned about the definition and impact of human trafficking at a local, national and global level. A survivor hosted a tour of the site, including the beautiful mosaic mural created by artists, survivors and supporters in 2022. She also shared her moving personal story with the participants. Students then helped to prepare the materials that survivors use to make the fine leather goods sold in the Rethreaded retail space. 
Working with Rethreaded was a powerful and motivating experience for the students. "It was a very informal and emotional visit," said Kailah Lalanne, a biology student with a focus on biomedical sciences. "It was nice to really be hands-on and have an impact on the work there."
Vitor Melo Idalino, an international student from Brazil majoring in biology with a concentration in molecular/cellular biology & biotechnology, said, "It was a really interesting experience, which I was thrilled to participate in. Viewing how many strong people overcame their past with sex trafficking was extremely beautiful."
Students seeking current opportunities to volunteer or with ideas for new opportunities should contact the Center for Community-Based Learning at ccbl@unf.edu.  
Categories
Recent Articles