Masters of Science in Health
oneColumn
Kinesiology/Lifestyle Medicine
The Master of Science in Health (MSH) in Kinesiology and Lifestyle Medicine (KALM) is a life sciences degree that integrates an evidenced-based curriculum in an applied research environment. Students pursuing the MSH in KALM are required to take 11 core courses in exercise physiology, epidemiology, biostatistics, research methods, and behavioral medicine, for a total of 33 credit hours. The remaining credits will be satisfied with either a three or six-credit internship/project or a six-credit thesis option.
Elective coursework is available in the areas of strength and conditioning, epidemiology, pathophysiology, and nutrition for students who opt for a three-credit internship/project. Students must declare a thesis or non-thesis option upon acceptance into the program. The MSH in KALM requires the completion of 39 graduate credit hours and should be completed in two years.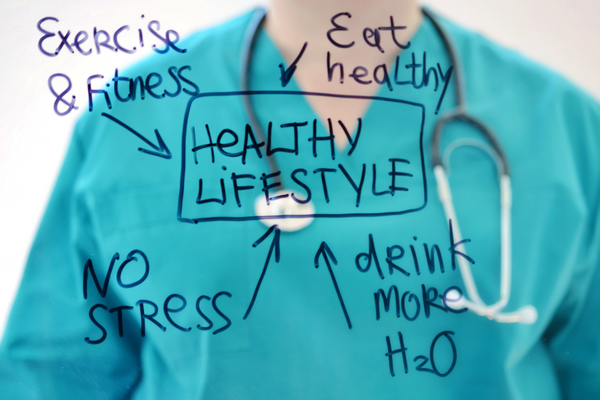 The MSH in KALM curriculum will provide students with the knowledge and skills necessary to work and provide leadership in the areas of lifestyle and preventive medicine, health and fitness, cardiopulmonary rehabilitation, diabetes education, strength and conditioning, lifestyle coaching, and population and clinical research.
Thesis option students will begin preparation towards becoming independent investigators by developing the skills necessary to conduct original research. Thesis option students may be exposed to both primary data collection (human subjects) and secondary data analysis (existing data sets). Students planning on pursuing a thesis and terminal degree (e.g., Ph.D., M.D.) are strongly encouraged to pursue elective coursework in epidemiology. Thesis option students will be accepted each fall on a competitive basis and contingent upon graduate assistantship funding.
Upon program completion, students are encouraged to sit for the national certifications offered by the American College of Sports Medicine (ACSM) and National Strength and Conditioning Association (NSCA). The internship option culminates in either a 150 or 300-hour experiential internship working under the direct supervision of a graduate degreed professional in fields including Exercise Physiology/Kinesiology, Epidemiology, Public Health, Rehabilitation and/or Medicine. 
The program does not require a specific undergraduate major. Applicants who apply while still enrolled in an undergraduate degree program may be admitted contingent upon successful completion of the bachelor's degree prior to enrolling in graduate courses. 
UNF admits 10-15 students into the MSH in Kinesiology and Lifestyle Medicine program each fall semester. To be considered for admission, students must apply to the program by the posted deadline of the year for which they wish to be admitted. Prior to enrolling in MSH courses, students must have completed the prerequisites.
Application Deadlines
Fall Term . . . . . . . . August 1
The review process for admissions begins on January 1
Admission Requirements
For admission requirements and information on how to apply, please visit
Program Information
Resources
Contact the Program Director 
Dr. James Churilla
(904) 620-1735