Center for Nutrition and Food Security
oneColumn
In the United States, 1 in 6 Americans or 15.8 percent lack access to adequate amounts of healthy foods, including 21.4 percent of U.S. children. The problem is even greater in Florida where 17 percent of adults and 26.7 percent of children are food insecure. Duval County has one of the highest rates of food insecurity for the state at 20.1 percent of all adults. The consequences of food insecurity are profound. In children that don't have access to enough healthy food, research has shown more difficulty in learning, behavioral issues, depression and anxiety, and higher rates of obesity. Adults that don't have access to enough healthy foods have more mental health issues, obesity and chronic diseases such as diabetes and heart disease.
The Center for Nutrition and Food Security (CNFS) serves as a gateway to the University for non-profit Agencies, government programs, professional organizations, and industry personnel by exploring solutions to food insecurity and malnutrition. 
Center Mission:
The Center's mission is to bring individuals and organizations together in a coordinated and sustained effort that finds solutions and eliminates barriers in order to improve food access and nutritional health in the local and global community.
Our Goals:
The goals of the CNFS are:
provide transformational learning opportunities for students on food security and health;
foster internal and external linkages among faculty and professionals engaged in addressing food access, food security, and nutritional health;
assist in developing applied teaching and research on food security and nutritional health;
acquire support for food access and nutritional health education and research;
and serve as a liaison to external organizations on food security and nutritional health.
Please contact us at cnfs@unf.edu
Current Community-Engaged Center Programs
Food Recovery-Meal Delivery
Meals on Wings
When the Meals on Wings program started, there were over 1,000 seniors in Duval County who were eligible for Meals on Wheels but on a waitlist due to funding shortages. The Meals on Wings program offered a solution for some of those seniors, and the program continues to grow. The Meals on Wings program recovers food that would normally be wasted from Baptist Medical Centers, Brooks Rehab, Mayo Clinic, Ascension, and UF Health and repackages the food into healthful meals. The meals are then delivered to seniors on the waitlist for Meals on Wheels. Meals on Wings uses student volunteers to recover food, prepare the meals and deliver it to the seniors. The program has provided over 100,000 meals to homebound seniors since it started. Three-month evaluation has demonstrated significant improvements in the seniors' nutritional status, nutrient intake, food security level, loneliness and well-being. UNF students interested in volunteering can send an email with their n# to cnfs@unf.edu.
Newsroom Media
Food Fighters: 
This program recovers food from the UNF Café that would be wasted and packages it into nutritious meals that are delivered to non-profit organizations in the community. Organizations receiving meals include Northeast Florida AIDS Network, Sulzbacher Center, Lutheran Social Services, UNF Lend-A-Wing Food Pantry, and Mission House. In just over 2 years, Food Fighters has recovered close to 20,000# of food and provided close to 20,000 meals to community members in need. Currently, the impact of Food Fighters on meal recipients is being evaluated.
Northeast Florida Hunger Network
Located in the Center for Nutrition and Food Security, the Hunger Network serves as a resource for data and research coordination, a neutral convener for solving complex barriers, and a facilitator for collective solutions to hunger and fresh food access inequities, and opportunities for good nutrition. Working collaboratively, the first project the Center and the Hunger Network are completing is the Hunger Map. The 4-level map is a comprehensive assessment of hunger in the community that serves as a resource for programming, services, advocacy, and grants.
One City – One Table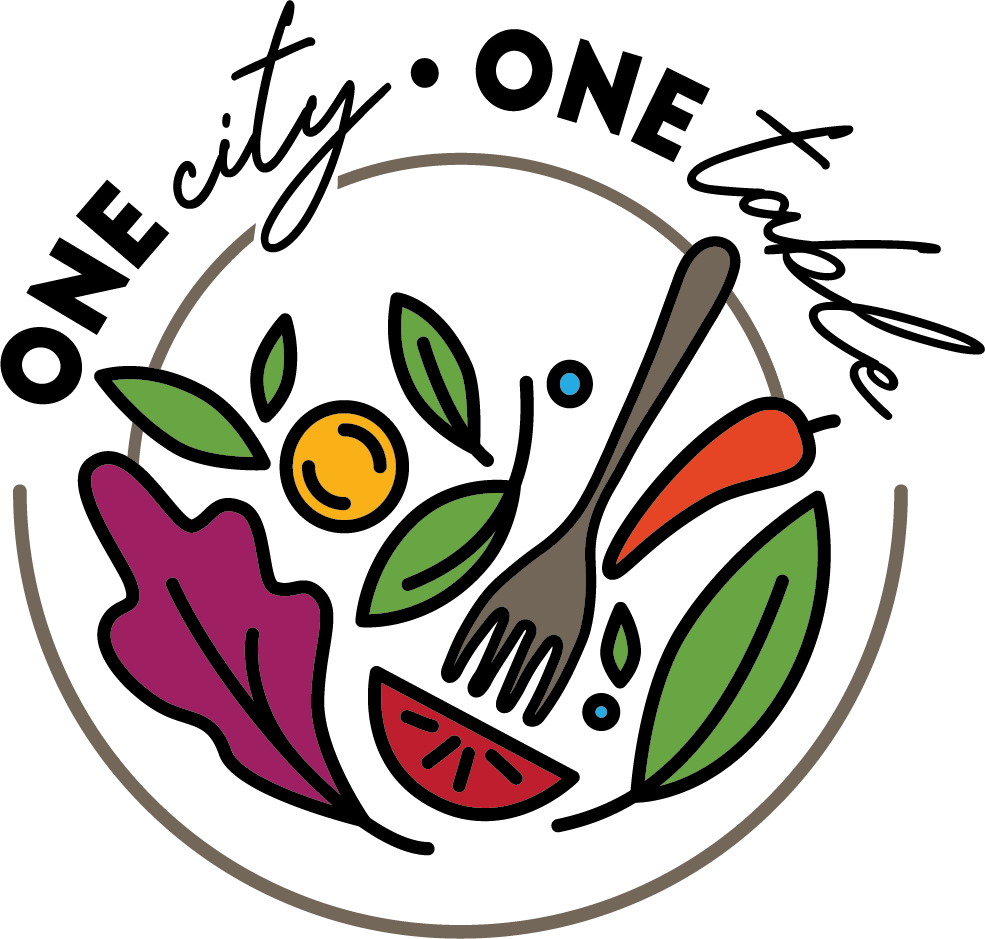 Led by CNFS, One City – One Table is a community initiative with the goal of creating a customer-centric community framework, with a centralized system, that will connect Northeast Florida residents to food resources while maximizing service capacity and delivery. 
In 2021, the One City – One Table Symposium Series highlighted various organizations, initiatives, and partnerships based in Northeast Florida to identify resources and facilitate guided small group discussions with participation from the public, private, nonprofit, and philanthropic sectors. Spring newsletter coming soon.
Meghan Niemczyk, Director- Northeast Florida Hunger Network
Hearts and More
There is a high prevalence of malnutrition in Heart Failure (HF) patients and malnutrition, in turn, increases complications, lengths of stay, mortality, and hospital readmissions. In addition, HF patients often have difficulty following a therapeutic diet as a result of an inability to prepare meals due to fatigue, lack of access to food, or knowledge deficits. Nutritional intervention by a registered dietitian complemented with therapeutic meals may prevent complications and readmissions while improving nutritional status and quality of life. Hearts and More extends the food recovery model, providing nutrition counseling sessions by a registered dietitian along with 30 days of therapeutic diets upon discharge. 
Positive Nutrition
This fruit and vegetable prescription program provides 4-weeks of nutrition education, cooking demonstrations and healthy food baskets to HIV+ clients at Northeast Florida AIDS Network. Outcome measures being evaluated include nutrition knowledge, self-efficacy, produce intake, body composition, compliance with HIV medications, and HIV viral load.
Giving Back
Gifts to the Center for Nutrition and Food Security provide critical funding for community-engaged center programs far beyond what is possible using state allocations alone.