oneColumn
SOARS (Showcase of Osprey Achievements in Research and Scholarship) Symposium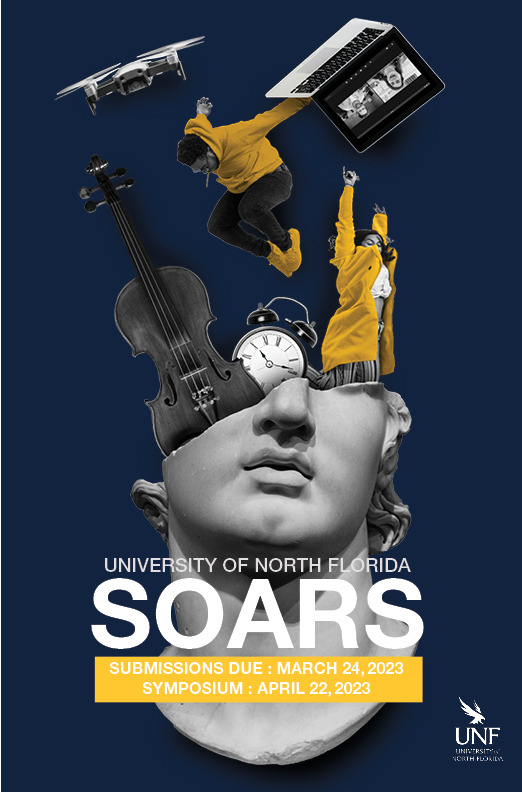 The Showcase of Osprey Advancements in Research and Scholarship (SOARS) is an annual interdisciplinary conference at the University of North Florida (UNF) in which undergraduate and graduate students showcase their research or creative projects during Research Week. Research projects can be presented in poster format or as an oral presentation, but we also work with students who present in multimedia formats. SOARS is a welcoming environment where students can refine their presentation skills through interaction with peers and faculty as they explain their projects, which can be in various stages of development.
SOARS 2023 will take place in person on Saturday, April 22. The abstract portal has closed and is no longer accepting submissions.
Events Schedule  
SOARS 2023 will take place in-person on Saturday, April 22 from 10:00 a.m. to 3:00 p.m. The poster sessions will be held in the covered walkways outside Skinner-Jones Hall (Building 4), and the oral presentations will take place inside the building's classrooms. The Graduate Mentor of the Year (GMOY) and Undergraduate Mentor of the Year (UMOY) recipients will be announced during the SOARS Awards Ceremony, from 12:15 p.m. to 12:45 p.m. in the Biological Sciences Building (Building 59), Room 1701. 
Tentative SOARS Schedule
10 a.m. – 3 p.m.: Student Resource and Club Fair, Building 4 
10 a.m. – 12 p.m.: Poster and oral presentations, Building 4 
12:15 p.m. – 12:45 p.m.: Undergraduate Research Mentor of the Year and Graduate Research Mentor of the Year Awards Ceremony, Building 59, Room 1701 
1 p.m. – 3 p.m.: Poster and oral presentations, Building 4 
Poster Printing 
If you are doing a poster presentation, the deadline to submit your poster to the OUR for SOARS printing is
Friday, April 7.
You can download
free poster templates
from the OUR if you need help creating your poster. 
Please carefully read 
all

 
instructions below before submitting and paying for your poster. 
Poster printing guidelines: 
Appropriate file formats include PDF and PowerPoint (.ppt, .pptx, or .pdf). Alternative file types will not be accepted.
Your poster should be sized to 4' x 3' (48" wide by 36" high) 
Ensure your poster is sized to the appropriate dimensions before submitting it to be printed. The OUR will not resize your poster for you. 
A 4' x 3' poster costs $25 
If you are self-paying for your poster, you must submit payment through the payment portal. If your department is covering the cost, email our@unf.edu to request an invoice. 
Select the 'Standard Poster Printing' storefront option on the payment portal, if self-paying. 
After you complete payment, submt your poster to the OUR by completing the Poster Printing Qualtrics form (UNF email). 
Oral Presentations
Each presenter that opted to do an oral presentation will have a 15-minute timeslot to present their project. Presenters should plan for their presentation to be about 10-12 minutes long, with a few minutes remaining for audience Q&A. 


Send your oral presentation materials to the OUR before April 19 by emailing
our@unf.edu
Attire 
The recommended attire for SOARS presenters is comfortable business-casual or smart-casual clothing. We also recommend wearing comfortable shoes, as the presentations and Awards Ceremony are in separate buildings.  
SOARS Parking
Since SOARS 2023 is taking place on a Saturday, a UNF parking permit is not required. It is recommended that SOARS presenters and attendees park in the Arena Garage (Garage 38). The garage can be viewed on the
campus map.
SOARS Student Resource and Club Fair
Are you part of a student group or organization that would like to reserve a table during the SOARS Student Resource and Club Fair? This opportunity would allow you to recruit new members and expose the university community to what you do. Contact the OUR at OUR@unf.edu if interested in reserving a table.
Important Dates
Sunday, March 26 @11:59 PM:

 
Undergraduate Mentor of the Year (UMOY) 
and Graduate Mentor of the Year (GMOY) nomination deadline 
Monday, March 27 @11:59 PM:

 
SOARS Abstract Portal closes 
Friday, April 7

 

@11:59 PM:
OUR poster printing deadline 
Saturday, April 22:

 
SOARS 2023