oneColumn
Clearpass OnGuard
Network Access Control (NAC) is a networking solution that controls how computers connect to the campus network. Computers that do not meet the security requirements of NAC will not be allowed to connect to the campus network. The university is using a product called ClearPass OnGuard that checks your computer to ensure it meets the requirements of NAC along with managing access to the network. As part of NAC, users living in campus housing and connected to UNF-Wireless using their UNFID are required to have an anti-virus program installed with live protection enabled.
What are the requirements?
The security requirements are relatively simple. Only computers that meet the following requirements will be allowed access to the campus network:
Running a supported operating system (Windows 8 or newer, Mac OSX 10.14 or newer)
System firewall enabled
Automatic system updates enabled and applied
Anti-virus program installed with live protection enabled (Anti-virus Options) - McAfee is not supported by Clearpass OnGuard
Computers running Windows XP, 7, or older versions of the Mac OS will not be able to access the campus network.
*Mobile devices like iPhones, iPads, Android devices, Chromebooks, and others will not be affected by NAC. Linux devices are also not required to install an agent. 
How to Connect
Connect to UNF-Wireless using your UNFID. If the network you are connected to requires NAC, you will be taken to a page that allows you to download the OnGuard agent*. The page can be found by opening a modern browser and attempting to connect to any website. (MacOS users, see note in FAQs)
*If this page is inaccessible, please use the following links to download the full OnGuard Agent installers: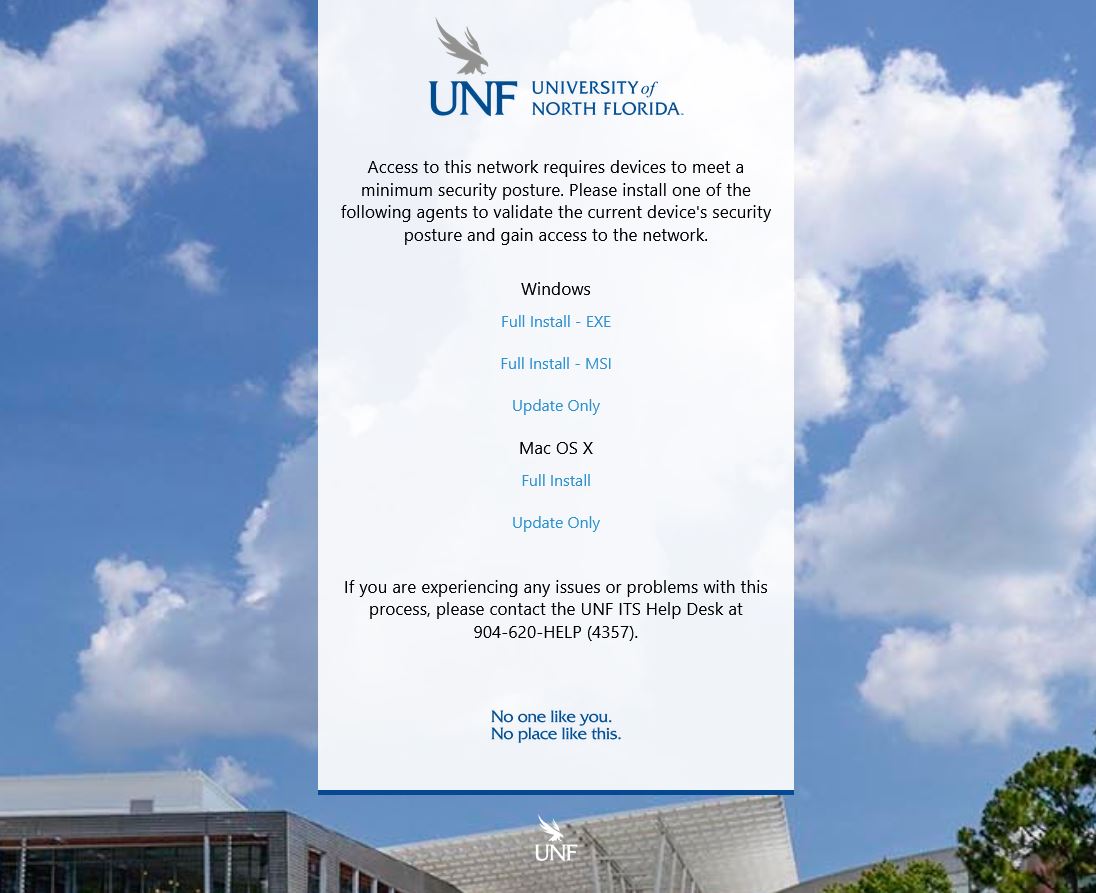 Download and install the agent using the default settings. The agent should run automatically after installation, but if not launch the agent from the programs list. It will then check for policy compliance and report back on health status. 
Healthy Windows Computer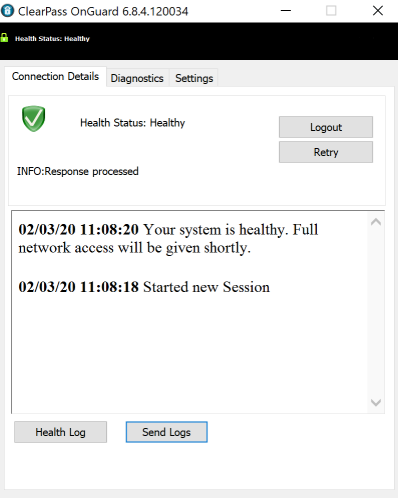 If your system is out of compliance, you will be placed into Quarantine and the agent will display a message stating what needs to be fixed. Limited internet access is available at that point to download Operating System or Anti-Virus updates. If you have issues connecting please contact the UNF ITS Help Desk at 904-620-HELP (4357).
The purpose of NAC is to prevent computers that lack basic security features from accessing the campus network and placing other computers at risk of cross-contamination from worms and viruses that can permanently harm your computer and computers across the network.