oneColumn
My Content
Watch more on how to get the
most of Office.com
What is happening?
The new My Content feature is a place to see all your Office 365 content and storage locations in a single hub.

How do I access the My Content dashboard?
Simply log into Office.com and the My Content folder is located as the third option down on the left menu.
Who has access to a My Content dashboard?
Any individual using Office 365.
What is the benefit of using My Content?
Individuals can see a mix of documents, meeting attachments, and more. Each item shows you the file name, when it was last modified, who owns it, and if there is any recent activity within the file. The filters and pivots within My Content narrow your search to only files related to you specifically. 
Use Filter by keyword to find a file by typing in part of the document name.

Select Filter to open a robust set of options, including File Types, Activity, and Time.

Choose one of the popular pivots, such as Recently opened, Shared, or Favorites. You can also browse by People or Meetings, or filter by Locations.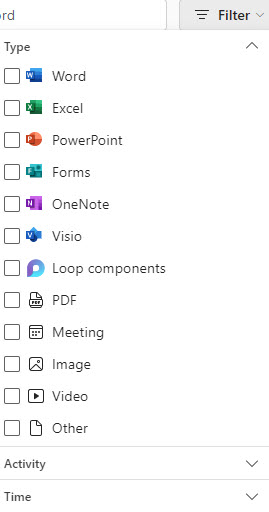 My Content Dashboard