Teaching with Technology
oneColumn
Overarching Goals
Explore ways to use educational technology/digital learning tools to improve children's learning
Explore ways to increase teachers' access to professional learning opportunities designed to increase teachers' content, pedagogical, and technological knowledge relative to the effective use of technology for teaching and learning
Explore possible metrics, collect and analyze data, interpret results, and share findings that strengthen instructional practices by incorporating technology in ways that enhance children's digital and literacy skills
Use the TPACK framework to inform our work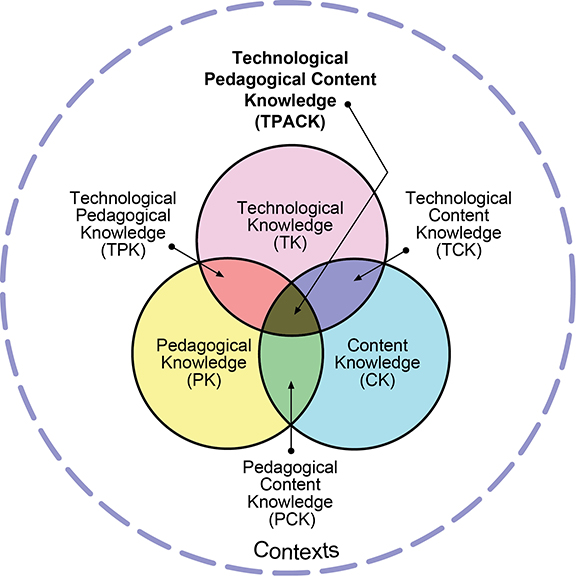 Source: TPACK model for technology integration
Reproduced by permission of the publisher, © 2012 by tpack.org
Technology Professional Development Projects
FIE Technology Partners Project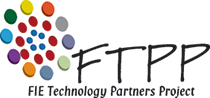 The FIE Technology Partners Project (FTPP) is a collaborative practitioner/researcher initiative designed to gain knowledge about how blended professional learning sessions on literacy, research-based instructional practices, and embedded tablet technology can be delivered and consequently impact classroom instruction.
Phase I included field-testing 10 online learning sessions, and three face-to-face feedback sessions with prekindergarten teachers from both the child readiness sector and the public school system. Online sessions included exemplar instructional videos, practice activities, and reaction/reflection activities.
Phase II included piloting revised online learning sessions and three face-to-face learning sessions with 26 prekindergarten and kindergarten teachers in Duval and Flagler County.
Phase II focused on:
Increasing teachers' knowledge and use of effective, research-based emergent writing instructional strategies using iPads to enhance children's learning.
Improving emergent writing skills for children as they progress along a developmental writing continuum.
Increasing the use of iPads by teachers and children.
Improving the digital literacy skills of teachers and children.

Click here for the FTPP Spring 2015 Field Test Brief
For more information on the FTPP, contact:
Dr. Heather Monroe
h.monroe-ossi@unf.edu
Supporting the i-Generation: Summer iPad Academies for Educators and Instructional Leaders
The Summer iPad Academies addressed how to build digital age learning skills, use technology to address Common Core Standards and early learning state standards, and provided networking opportunities with teachers, educators, and instructional leaders throughout the southeastern United States. Two and three day session topics are listed below.  
I have an iPad, Now What? Instructional Strategies for New Users (All Grade Levels) 
Create + Collaborate + Innovate = Enhancing Literacy Practices using the iPad (PreK – Grade 5) 
Exceptional Ideas for Teaching Exceptional Students: Using the iPad to Meet Individual Needs (PreK – Grade 5) 
Making Phonological Awareness Fantastic: Tools, Tips, and Techniques for Teaching Phonological Awareness using the iPad (PreK -Grade 1) 
Informational Texts + iPads = Interactive Learning: Strategies to Improve Literacy Practices (PreK – Grade 5) 
Becoming an iLeader: iPad Implementation for School Leaders (PreK – 5)
FIE/DCPS Prekindergarten Disabilities Partnership Project: Supporting Literacy Instruction using Technology with Prekindergarten Disabilities Teachers and Speech/Language Pathologists
Small-group instructional iPad clusters: 3 to 5 iPads per classroom for use with children to 

differentiate instruction 

FIE professional learning was delivered through Face-to-Face Learning Sessions