Leslie Gordon, Director of Women in Business
twoColumn twoLeft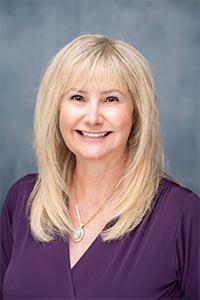 Leslie Gordon
Dr. Leslie Gordon is the Director of Women in Business, a Coggin College of Business initiative with a mission to recruit and increase the number of students pursuing degrees.  
Dr. Gordon currently teaches Social Media Management, Consumer Behavior, Sales Management and Advertising Management. Prior to teaching at the University of North Florida, she taught numerous Business Management courses at Flagler College and Florida State College at Jacksonville and received "Teacher of the Semester" recognition. She has over 25 years of experience in Advertising, Sales, and Marketing, some with Fortune 50 companies including Honeywell, Inc. where she earned national recognition for outstanding sales performance and MCI/WorldCom, now part of Verizon Enterprise Solutions.   
In 2018, Dr. Gordon was nominated and selected by community leaders as a 2018 "Woman with Heart" honoree, for leadership and commitment to our community and for her work as an advocate of health and human services programs. Dr. Gordon currently serves on the Florida Theatre's Board of Governors in the role of 1st Vice Chair and will be Chairperson of the Board beginning October 1, 2022. Dr. Gordon is also passionate about Volunteers in Medicine, a local healthcare clinic for the working uninsured, where in 2018, she helped create and implement several "giving" events, including a ten-day, seven-location Orange Theory Fitness Charity Burn, raising over $25,000 for the clinic.