oneColumn
Criminology and Criminal Justice Student Opportunities
Our department features many opportunities for Students to enrich themselves in both their studies and their lives. Some of our opportunities are listed here below.
Alpha Phi Sigma - Criminal Justice Honor Society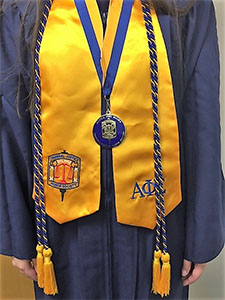 Alpha Phi Sigma
Established in 1942, Alpha Phi Sigma is the only nationally recognized Criminal Justice Honor Society. Alpha Phi Sigma is a certified member of the Association of College Honor Societies and affiliated with the Academy of Criminal Justice Sciences (ACJS). The society recognizes academic excellence by undergraduates, graduates, and doctorate students in criminology and criminal justice. The goals of Alpha Phi Sigma are to honor and promote academic excellence, community service, educational leadership, and unity.
Pi Omega Chapter at UNF
The Pi Omega chapter was officially chartered at the University of North Florida as the university's official Criminal Justice Honor Society in spring 2015. Assistant Professor, Dr. Kristina Lopez, serves as the faculty advisor for the Pi Omega Chapter and currently resides as a National Advisor on the Alpha Phi Sigma National Advisory Board. For general information or any questions not answered by the information listed below, please email kristina.lopez@unf.edu.
Benefits
Lifetime membership
Membership certificate, card, and pin
Privilege of wearing commencement honor regalia
Scholarship opportunities
Networking
Internships
Professional conferences
Leadership development and opportunities
Membership meets one of the requirements for entrance at the GS-7 level in professional and technical occupations in the U.S. government.
Official Organization Newsletter - The Docket
Membership Qualifications
Undergraduate Students
Enrolled in the University of North Florida
Declared major, minor, or equivalent in the criminal justice or related field
Completed three full time semesters or its equivalent (36 credit hours)
Minimum GPA of 3.2 on a 4.0 scale
Minimum of four criminal justice courses completed (12 credit hours)
Graduate Students
Enrolled in graduate program in criminal justice or related field
Four courses completed (12 credit hours)
Minimum GPA of 3.4 on a 4.0 scale
Eligibility
Eligible students will receive an emailed invitation at the beginning of fall and spring semesters. Application materials and instructions on how to proceed with joining APS-Pi Omega will be included in the email.
New Membership Cost
National Headquarters Membership Fee - $70.00
Pi Omega - Local Chapter Membership Fee - $25.00
Total = $95.00 (One-Time Membership Fee)
Commencement Honor Regalia
Honor regalia is available for purchase by members in good academic standing. Students will submit a completed honor regalia order form and payment to their Chapter Advisor. The advisor will sign and mail order forms with payment to headquarters. Honor regalia is not mailed to individual students. Regalia orders are processed in 3-4 weeks from date received at headquarters. No regalia orders are placed during the summer. For summer commencement, regalia orders must be placed early during fall or spring semester. Shipping and handling costs are not included in the prices listed below.
3-Piece Set: $75.00

Set includes all three pieces: honor stole, medallion, and cord.

Honor Stole: $35.00

Gold satin with Alpha Phi Sigma Key embroidered on left side and Greek letters embroidered on right side of honor stole.

Honor Cord: $18.00

Blue and gold intertwined cords with gold tassels.

Honor Medallion: $25.00

Blue round medallion with the Key embossed and gold lettering.
Chapter T-Shirts
There are currently chapter t-shirts available for sale. The shirts are $20.00 dollars and available in various sizes (S, M, L, XL, 2XL). T-shirts can be purchased at chapter meetings or at the department's main office (Building 51, Room 2310). For t-shirt, cash payments are only accepted and receipts will be provided.
Form of Payments
Cashier's check or money orders are accepted and must be made out to APS-UNF. Cash payments are not accepted for new member applications or regalia orders. Cash is only accepted for purchase of chapter t-shirts. APS is now accepting payments via PayPal. Students may request to be invoiced for membership or honor regalia through PayPal. Please email one of the Chapter Officers or Chapter Advisor to request a PayPal invoice.   
Important Note
The APS National Office will not accept applications, dues or regalia orders directly from individual students. All new membership applications and regalia orders must come from the university's Chapter Advisor for verification and signature. Potential or current members will be informed of all semester deadlines for new membership applications and regalia orders via email. Please submit your completed application materials and regalia orders per the instructions located in your invitation email.
Criminology and Criminal Justice Club

About CCJC
The Criminology and Criminal Justice Club (CCJC) is a club for all students interested in the fields of criminology and criminal justice, regardless of major. We have biweekly meetings that feature guest speakers from various different federal, state, and local agencies, as well as special field trips to areas such as the Pretrial Detention Facility and the local FBI office. Membership is open to all students at UNF. 
CCJC Merchandise
CCJ Club shirts, challenge coins, and graduation cords are available for purchase throughout the year, however, club merchandise is subject to availability.
Social Media
Facebook: UNF CCJ Club
Instagram: @unf_ccj
Relevnt: @UNFCCJ
Faculty Advisors:
Dr. Alicia Sitren: a.sitren@unf.edu
Professor Michael Kilbane: m.kilbane@unf.edu